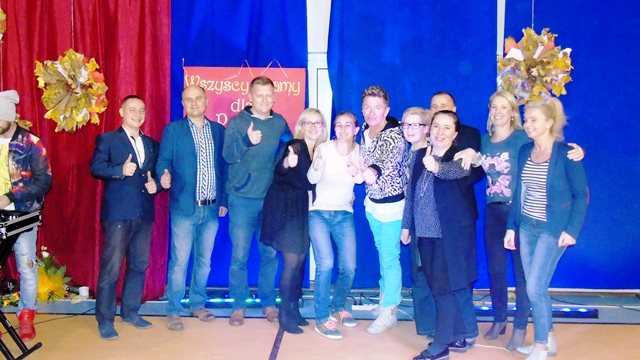 ALMOST 10 GRAND FOR PAUL
On 22.X and 23.X a charity event took place in our school. The motto was: "We all play for Paul". The aim of the campaign was to raise money to purchase a prosthetic leg for one of the graduates, namely Paul Chudziński.
On Saturday, The First National Ballroom Dancing contest was held, where one could admire the performances of dancing couples. On Sunday, there was a volleyball tournament as well as a gig of a Disco Polo star - Markus P.
Throughout the event coffee, tea, pastries, waffles and warm stew were served in a café.

The two-day action resulted in collecting approx. 10.000 zlotys. We hope that the money will improve the quality of Paul's life.


Many thanks for your help in organizing the event, and in particular:
The Municipal Office in Kurzętnik
The Municipal Cultural Centre in Kurzętnik
The Voluntary Fire Brigades from Nielbark and Krzemieniewo
all the headmasters, teachers and students
the farmer's wives' associations
Peasants' Self-Help Cooperative in Kurzętnik based in Marzęcice
Enigma from Nowe Miasto Lubawskie
parents, students, graduates of our school, all donors and people who supported our campaign in any way

signed by Krystyna Wójcik-Wiśniewska.
RD